Uli's Restaurant
Uli and his legendary sausages are famous not only in Taipei but in Germany and America as well. Uli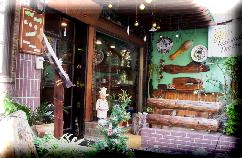 Lengenberg is a German Master Butcher who came to Taiwan many years ago. He opened his restaurant back then and had great success offering German cuisine to Taiwanese people. Uli's restaurant is located right between Tian Mu and Shilin Taipei, which is one of the upscale living areas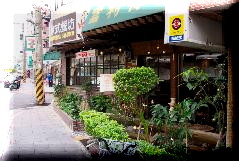 in Taipei city. Most foreigners associate Tian Mu with Taipei American School and the famous shopping area near it. If you want to visit Uli's place and you are coming from Taipei train station the easiest way to find him will be you take the bus Nr.220 and get off the bus at Keh-chiang street Nr 17. This is one stop before Taipei American School. The restaurant itself is a mixture of a German bread store and dining place. The internal has the typical German heavy wood style. As it is for the forest it is for the furniture the generation contract says plant the trees for your grandson and the furniture last this long too.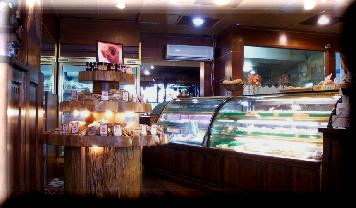 The entrance displays a great selection of German bread and bakeries.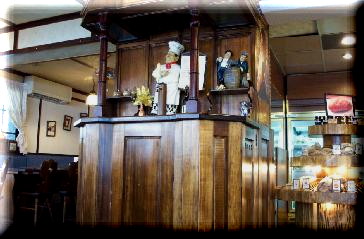 The bar serves German beer from the tab.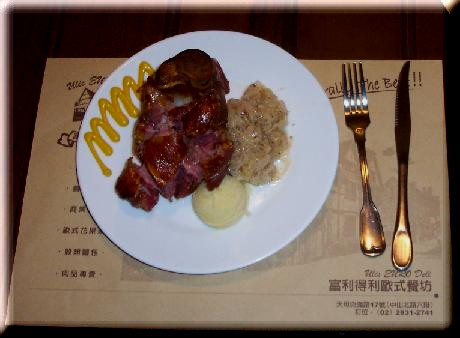 The roasted Porknuckle is just one of the original specialties at Uli's restaurant.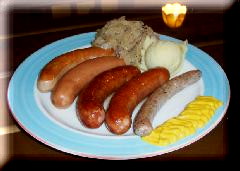 Probably most famous are the German sausages. Hotdog and German bratwurst. Bring a great appetite If you want to order mixed sausages. It will be enough for three.
Uli's Delicacies
Main Course
Roasted Porknuckle NT$ 490

Half Roasted Chicken NT$ 350

German Hamburger Frikade NT$ 300

Slice of Panfried Meatloaf NT$ 300

Bread, Soup, Salad, Drink

Please chose: Coffee, Tee, Herb tea

Pasta
Creamy Mushroom Pasta NT$ 180

Meat Tomato pasta NT$ 1980

Spicy Bacon Pasta NT$ 180

Snacks
Uli's Cheeseburger NT$ 195

Smoked Chicken Sandwich NT$ 110

Ham Sandwich NT$ 110

Gouda Sandwich NT$ 110

Sausages
Mixed Sausage NT$ 360

Cheese Krainer NT$ 210

Brat Sausage NT$ 200

Italian Mild-Hot NT$ 200

Cajun Andouille NT$ 185

Bock Wurst NT$ 170

White Sausage NT$ 160

Please chose two side dishes

Sauerkraut, Mashed Potatoes, Mixed Vegetables, Potato Salad, Pickled Gherkins.
Address: Keh-Chiang street Nr:17 Tel: 02-2831-2741 Take bus 220 to Tien Mu and get off two stops before Taipei American School.